AUTOMATION THAT MAKES LIFE EASIER
Brunswick's unique approach to innovation is rooted in our passion for collaborating with proprietors. By listening to business owners, we can develop powerful tools that address their greatest operational challenges, including staffing shortages and rising labor costs. Sync Magnus, the latest release of Brunswick's transformative center operating software, provides more automation than ever to elevate the guest experience while improving operational efficiency and profitability.
Sync Magnus—like all Brunswick product innovation—is designed to make your life easier, increase your profitability and competitive advantages, lower your risk, optimize staff efficiency, and delight your guests. Magnus incorporates leading-edge self-service and mobile technologies that deliver convenience and personalization. Sync Magnus automates the entire bowling purchase process, from taking an online or in-center Kiosk reservation through sending waitlist updates to issuing the lane when it's ready—all without staff intervention. Sync walks the customer through every step of the process, driving revenue and cross-selling. At the same time, your staff is freed up to solve problems and focus on ensuring an exceptional guest experience.
PROPRIETOR-SUGGESTED IMPROVEMENTS
This latest update to Sync introduces more than 500 enhancements, including new automation features in office functions, analytics, POS, Kiosks, mobile tablets, and Spark. As always, the Brunswick Cloud-based platform provides data security, accessibility, insightful reporting, and peace of mind knowing you have the tools you need today and technology that will evolve to meet your needs tomorrow.
SYNC SERVICE KIOSK
The Sync Service Kiosk, a fully automated, always-available system, streamlines customer experiences, enabling them to build, customize, and pay for their in-center experiences swiftly. Notably, it processes league dues payments, gift cards, F&B orders, and sells attractions. The system enhances customer engagement and order accuracy while reducing wait times. Its integration with Sync facilitates faster order processing and autonomous upselling, leading to a 20% increase in F&B sales and a 40% reduction in required staff, consequently driving remarkable revenue and operational efficiency across various centers.
Discover Sync Service Kiosk
CLOUD-BASED REPORTING
Data is power (and profits) when harnessed by Sync Magnus. Quickly call up at-a-glance vignettes to compare one period to another, discover which attractions are most profitable, find out which employees generate the most sales (or voids), or see how one of your centers is performing compared to another. Sync makes these at-a-glance reports available from anywhere, anytime, via the Brunswick Cloud.
ATTRACTION MANAGEMENT
Sync's attraction management feature enables you to sell and manage access to a variety of diverse attractions like trampolines, soft play, or ropes courses. The intuitive system is easy to implement and train staff on and helps increase operational awareness around guest activity. Guests love the seamless check-in and check-out process, which also includes the ability to pay any overtime fees automatically, reducing the need for staff assistance and elevating the customer experience.
REVENUE CENTERS
Sync Magnus's new Revenue Center introduces more robust enterprise reporting and big-picture analysis than ever before. Revenue Center provides visibility to which attractions drive the most secondary and tertiary revenue, delivering consumer behavior data you can't get anywhere else. Sync Magnus provides you with the intelligence and analysis you need to make data-driven business decisions.
MOBILE SERVER STATIONS
Sync Magnus lets you automate sales of any attraction inside your center. These all-in-one mobile stations provide visibility to all attractions and allow for real-time availability updates, so staff can move freely through the center, engage with customers, upsell additional services, issue new or extended bowling sessions, and process payment and event gratuities without having to go back to the front desk.
Magnus updates include the ability to handle high-volume bar and restaurant business, including multiple tabs from multiple customers, with improved speed, reliability, and user interface.
Discover mPOS
OpenLane® App
OpenLane® mobile app increases customer engagement by making staying connected with your center easier and more rewarding. Users can sign onto waitlists for bowling, restaurants, or other attractions, track and share scoring achievements, earn reward points based on spend and activity, and access exclusive specials and coupons. OpenLane leverages Brunswick's mobile scoring control patent to create an experience that is available only to Sync centers.
Discover OpenLane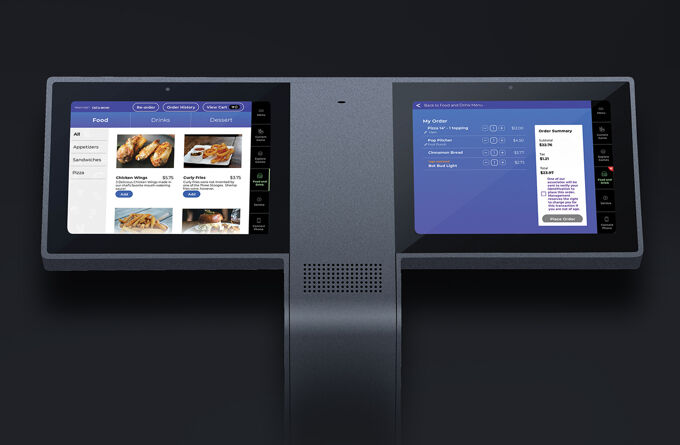 OrderNow
OrderNow provides lane-side on-demand food-and-beverage ordering from the scoring tablet with proprietor-requested features, including live product availability updates. Bowlers can easily access your entire menu in a highly visual and interactive format to order and reorder as they choose. Sync Kiosk, OrderNow, and Online Ordering share a single interface so staff members can manage the entire center from one screen.
Discover OrderNow
LET'S GET STARTED
See for yourself. Schedule a personalized demo of Sync today!