Bowling's First Immersive, Interactive Scoring Experience
Spark® surrounds the bowler in a mesmerizing, one-of-a-kind experience as it delivers the latest technology and entertainment trends to your lanes. Spark engages every segment of entertainment seekers with software-driven technology and innovation that's built for tomorrow but delivered today.
SPARK ELECTRIFIES THE GUEST EXPERIENCE
Spark's energy starts at the scoring tablet and flows through the seating area and down the lane to the pins, surrounding the bowler in mesmerizing graphics. Spark's fast, fun, engaging games encourage socialization while letting bowlers choose their adventures.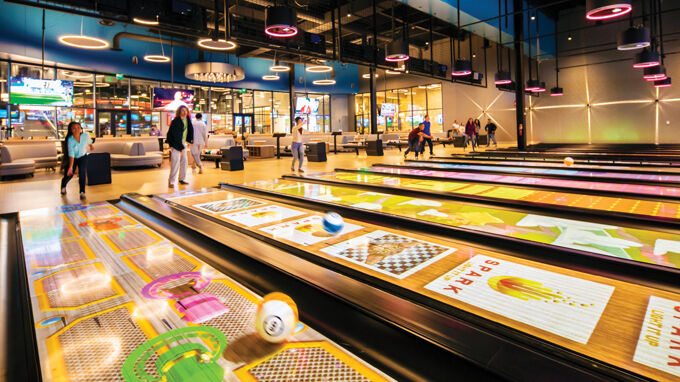 THE FUTURE OF BOWLING IS HERE
Today's consumers are tech-savvy families, professionals, and millennials looking for wholesome family activities, unique date night destinations, and interactive outings that promote social connection. They expect their bowling experience to incorporate the kinds of technology they use every day. And that's where Spark comes in.
SPARK DRIVES REVENUE
Spark games, designed for all skill levels, revitalize bowling with unique targets, rules, and social media-worthy moments, providing a higher-value experience. Dynamic, engaging content and expanding game libraries ensure repeat visits, higher revenues, and boosted food and beverage sales through sustained interest.
TURBOCHARGED GAMES
Guests can select their Spark experience directly on their Sync tablets, choosing from more than 15 animation themes. Spark's exclusive Heads-Up Display™ projects scores and stats—and even guests' own photos—directly on the lanes. Spark also brings your guests' favorite Sync games to life on the lanes, from the mass appeal of Angry Birds to corporate events team competition provided by Rival Rumble. Developed exclusively for Spark, Boom Bots turns the lane into an interactive part of the scoring experience. Boom Bots enables guests to score by hitting targets on the lanes and pins, supercharging the fun for casual bowlers while staying true to why guests are in the center—to strike pins.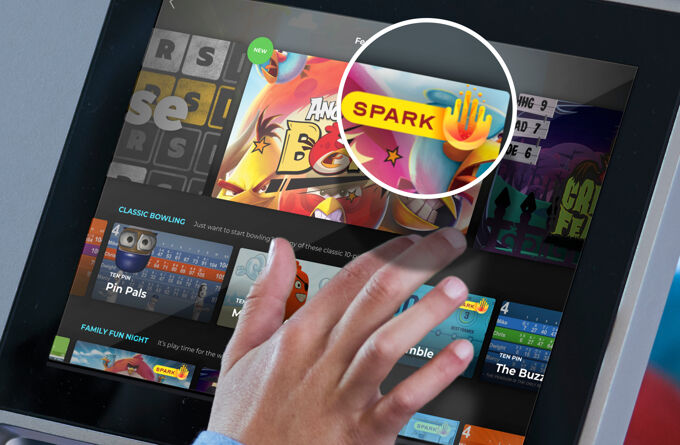 THE LATEST TECHNOLOGY
Spark's technology utilizes an integrated Sync system for streamlined access and control. Enabled by scoring settings, the system autonomously turns on/off, enhancing projector lifespan and minimizing staff involvement. The user experience is elevated through Sync's Vision™ User Interface, designed to amplify the Spark experience for guests.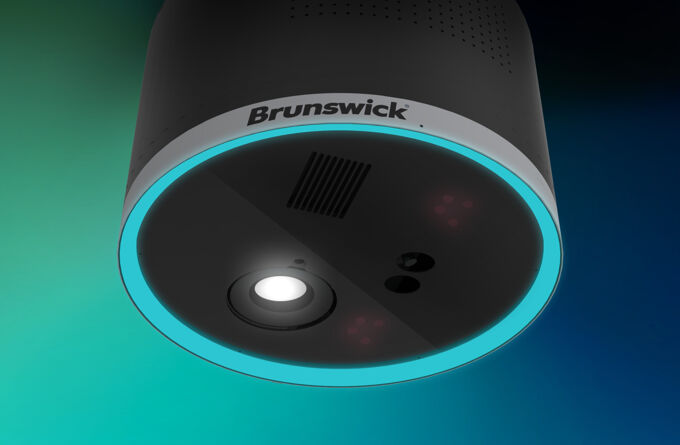 STATE-OF-THE-ART HARDWARE
In collaboration with TouchMagix™, Brunswick has designed Spark as a state-of-the-art, low-cost bowling lane projection system. This system incorporates hardware automation for ease of management and advanced laser projection to minimize costs. Each Spark node is self-contained with a projector, tracking sensor, and IR lighting and operates via existing Sync scoring tablets. Nodes come in three or four per-lane pair configurations, each featuring a light ring to show system status and error reports. It also boasts a durable 20,000+ hour laser projector lamp life.
ARE YOU READY TO LIGHT IT UP?
Seeing is believing. Schedule a live demo with one of our product specialist and see first hand Spark's immersive, interactive game play. Light it up!
Spark-Enhanced Sync Games
6 Listings