IT'S ALL ABOUT THE APPROACH
Ergonomically designed modular Center Stage™ furniture promotes relaxation and extended stays, courtesy of lumbar-sloped backs and spring support seats. Crafted to enhance space and mobility, the slim-backed design integrates optional LCD scoring consoles and under-table storage for clutter-free enjoyment. Our OnLane Dining layouts invite guests to savor meals while bowling, further elevating the experience. Power access through integrated USB ports, scoring monitors, and optional floor attachments emphasize the commitment to convenience and guest satisfaction—a stage set for unforgettable bowling experiences.
Comfort & Space
Center Stage™ modular furniture provides ergonomic comfort with lumbar-sloped backs and spring support seats that encourage customers to spend more time and money in the bowler area. The thinner back design creates additional room, which allows better movement in the bowler area. To save even more space, Center Stage coffee tables offer optional, dual, top-mounted LCD or keypad scoring consoles.
Browse All Bowlers' Area Products
Multiple Design Layouts
The modularity of Center Stage's line allows you to mix, match, and rearrange your furniture to the configuration that best suits your needs—looking for inspiration? See our layout possibilities for nine-foot, twelve-foot, and fifteen-foot configurations.
Explore Design Layouts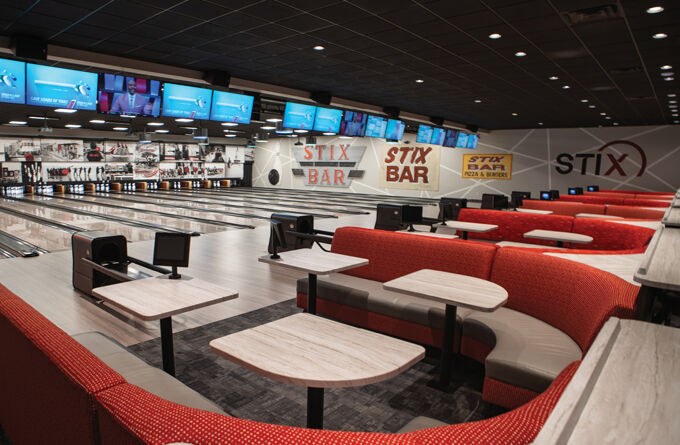 OnLane Dining
Center Stage's OnLane Dining layouts bring food and beverage service to the lanes. Keep customers at the lanes longer with plenty of space to enjoy a full meal. Center Stage provides space to store shoes and personal items under the tables and out of the way. Tables can be attached to the floor or freestanding. Scoring displays can be added as well.
Explore OnLane Dining Products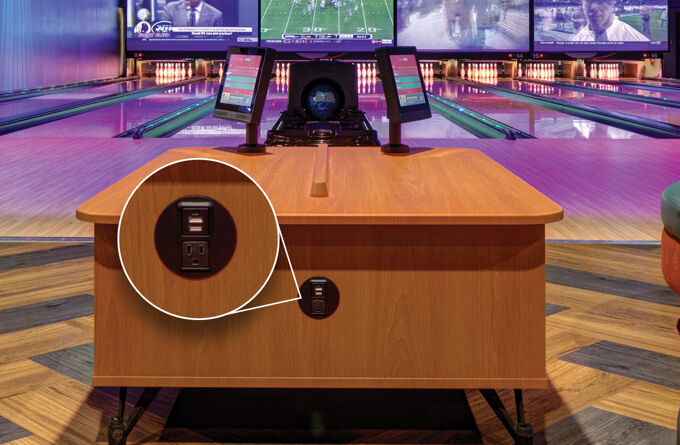 Power Integration
Power access isn't a "nice to have" feature anymore; it's a necessity that guests expect from your center. Delight them with optional, integrated USB charging ports and scoring monitors in the line's tables for instant connection while at the lanes.
Browse All Bowlers' Area Products
Let's Talk
Start planning your venue's transformation today with Center Stage™ Furniture.