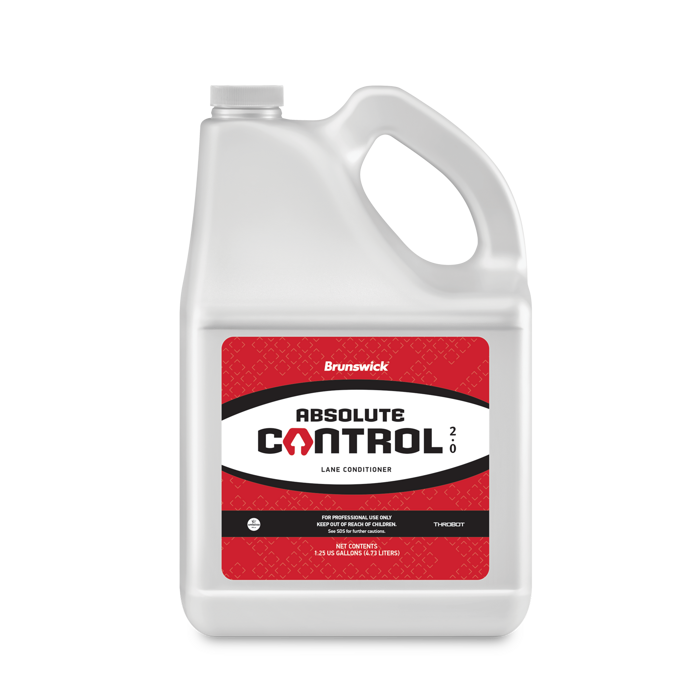 Performance / Wicking Lane Conditioner
ABSOLUTE CONTROL 2.0 uses top-grade oils with an enhanced additive package to produce a low viscosity product for use in all machine technology types (wick/pad, Direct+, and sanction). This high lubricity conditioner is the perfect conditioner for wood or worn/aged/higher friction surfaces that host league and competitive events, and is also
... read more
ABSOLUTE CONTROL 2.0 uses top-grade oils with an enhanced additive package to produce a low viscosity product for use in all machine technology types (wick/pad, Direct+, and sanction). This high lubricity conditioner is the perfect conditioner for wood or worn/aged/higher friction surfaces that host league and competitive events, and is also compatible with all lane finishes and surfaces.
Features and Benefits
22.0 viscosity
25.0 surface tension
Resists breakdown
Consistent performance
Easily removed by all Brunswick lane cleaners.
ThroBot approved.
USBC approved.
Part Number
62-860169-005 - (4 x 1.25 Gallons)

Get your FREE Sample today!
To request your FREE sample, please click the Get Started button and complete our sample request form. Samples are only available to centers in the continental United States of America.

Please allow 4-6 weeks for delivery. If you have any questions, or need additional help, please contact John Hill at (231) 725-3206 or email John.Hill@brunswickbowling.com.
Absolute Control 2.0 Safety Data Sheet
Global Harmonized System of Classification (GHS) Safety Data Sheet. Information is made available in PDF format. Languages available for the European Union (EU) and North America (NA).
Download SDS Sheets
Product Compliance & Tech Pages
Click the button to find additional chemical product compliance information.