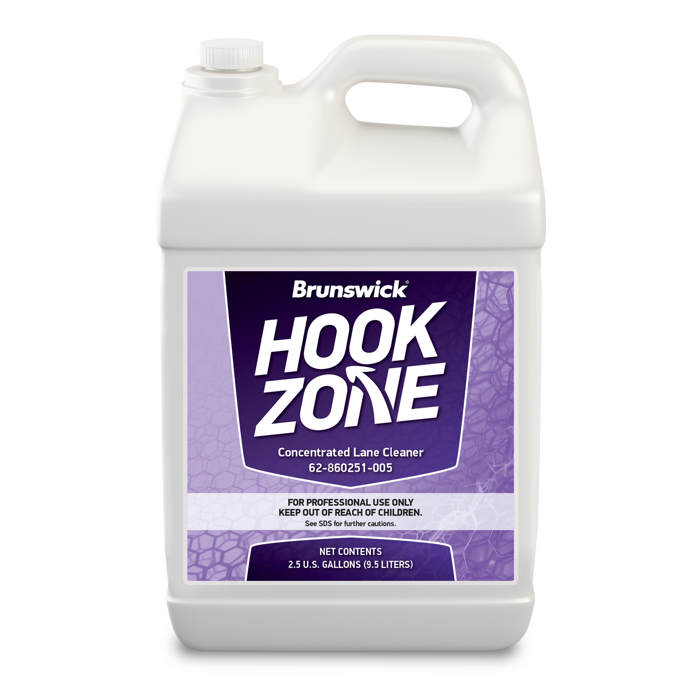 Solvent Based Lane Cleaner
Hook Zone Concentrated Lane Cleaner has paved the way for a new class of cleaners for Brunswick. Utilizing a highly effective, 100% liquid formula, this fast-acting solvent driven cleaner leaches the lane surface, and leaves a squeaky-clean lane. It can be paired with all lane conditioners on the market today.
Features and Benefits
Premium performance
Purple color to aid in mixing ratio verification
User friendly, near neutral pH
Can be readily mixed with Isopropyl Alcohol (IPA) to aid in cleaning on humid days
Recommended starting dilution with filtered water:
4:1 - Concentrate - 62-860251-005
Water based, non-hazardous cleaner.
For vacuum lane cleaning only.
Part Number
62-860251-005 - (2 x 2.5 Gallons)
Get your FREE Sample today!
To request your FREE sample, please click the Get Started button and complete our sample request form. Samples are only available to centers in the continental United States of America.

Please allow 4-6 weeks for delivery. If you have any questions, or need additional help, please contact John Hill at (231) 725-3206 or email John.Hill@brunswickbowling.com.
Center Maintenance Catalog
Brunswick's comprehensive center maintenance products and supplies have been trusted by center owners for generations. Explore our maintenance supply catalog to find the next solution for your center's care needs.
Download Catalog
Hook Zone Concentrated Lane Cleaner Safety Data Sheet
Global Harmonized System of Classification (GHS) Safety Data Sheet. Information is made available in PDF format. Languages available for the European Union (EU) and North America (NA).
Download SDS Sheets
Product Compliance & Tech Pages
Click the button to find additional chemical product compliance information.