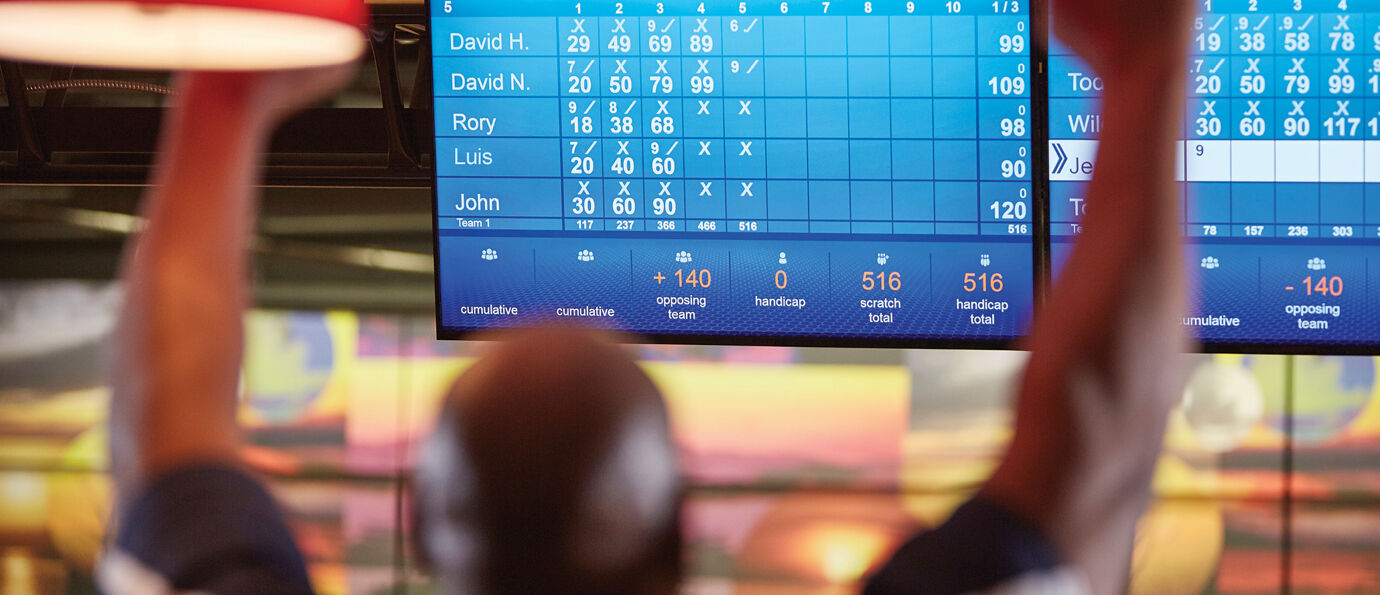 Bowler Experience
Sync was designed to help you deliver the best overall customer experience, every hour of every day.
The bowling experience at your center is multifaceted, taking into account the total customer experience — from the comfort of your furniture to how appetizing your menu is to how pleased customers are with what's playing on the TV monitors. Sync was created with all this in mind. It's designed to help you deliver the best overall customer experience, every hour of every day. You probably still can't please everybody all of the time, but Sync helps you come very close.
Sleek, Stylish New Hardware
Bowlers will love your new Sync scoring consoles. These great-looking devices are also made to take the punishment of constant use, so they keep working like a champ year after year. Use your existing HD overhead monitors, or upgrade to any of the new Samsung HD monitors available through Brunswick. New Scoresheets and Scoring Environments Sync takes bowling scoresheets to new heights. These screens — which are displayed on your overhead monitors throughout most of the day — add class and distinction to your center. Plus, Sync offers many scoring environments for two quite different modes of play (recreational/casual vs. league/ competitive), with just the right touches included in each. When bowlers get to the lanes, Sync scores by making the game they love even better in 1080p HD
Smart New Games
Sync includes a collection of new bowling games that your customers will love, netting you additional revenues. Unlike games offered on competitive systems, ours are incredibly simple and easy to play. Rather than bogging down the action on your lanes, these games actually accelerate it. See how we're integrating the latest technology to make gameplay even more immersive with patent-protected innovations and leveraging mobile trends, as seen in our newest game, pinpix!
Learn More
Improved Customer Service Functions
Elevate the bowler experience through improved customer service. Sync offers bowlers immediate access to specials, ads, and menus and lets them send text messages to the front desk when a ball is stuck or they want a server to come to their lane. All of which contribute to making their visits more enjoyable, as well as more lucrative for you. Sync Passport Keeps Customers Connected The fun continues for your guests a_ er they leave your center. With Sync Passport, bowlers can check stats and scores, share them (along with your branding!) on Facebook and Twitter, receive and redeem offers, make reservations, connect with your website, and more.
Schedule a Free Demo
Interested in learning more? Let the Brunswick team introduce you to the industry's most powerful scoring and management system.