Raising the Bar
Comfort, durability, and style — Center Stages has brought these three ingredients together to serve up fresh dining solutions to cater to your guests' and center's needs.
In the bowling industry, Center Stage furniture has been recognized as the most durable line on the market, offering configurations of all shapes and sizes with a premium selection of over 200 high-quality fabrics and finishes. It's no wonder that the line didn't stay confined to the bowlers' area for long.
With a dedication to quality and customization, Center Stage furniture expanded its configuration offerings beyond the bowlers' area and raised the bar in, well, the bar. Launching in 2016, Brunswick Bowling added bar and restaurant dining furniture to its line. As a part of the line, each piece has undergone the same rigorous quality testing and has been engineered with the durability needed in a bowling center environment—usage that is notorious for harsher wear and tear over the product's lifetime. Now making a splash in the dining space, the various configurations, endless customization options, quality, and overall value is making Center Stage Furniture a one-stop-shopping experience for proprietors looking to outfit their entire modernization or new start project.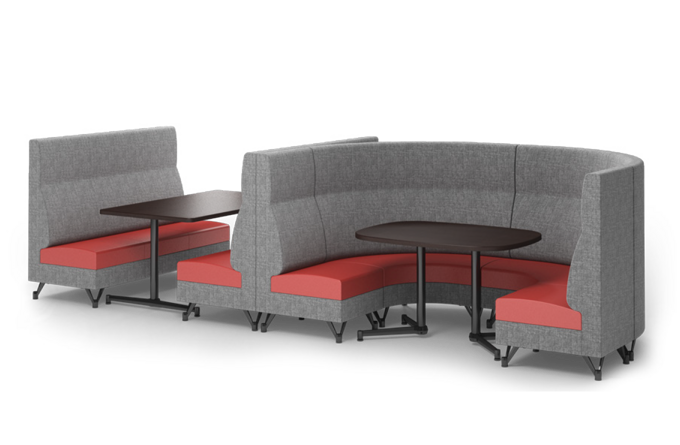 High-backed Booth Seating
Create a VIP experience for guests with the beautiful, high-backed booth seating of Brunswick's Center Stage furniture line. This modular soft-seating is ideal for restaurants and bars, as it provides intimate social spaces that give guests privacy and sound buffering so they can enjoy the company of their family and friends. Designed for configuration flexibility, these booths can be easily mixed and matched with other soft seating from the Center Stage line to create the perfect arrangement for your dining areas—all with the customization options proprietors have come to know and love.
High Back Booth