Brunswick Uni-Flex Basecoat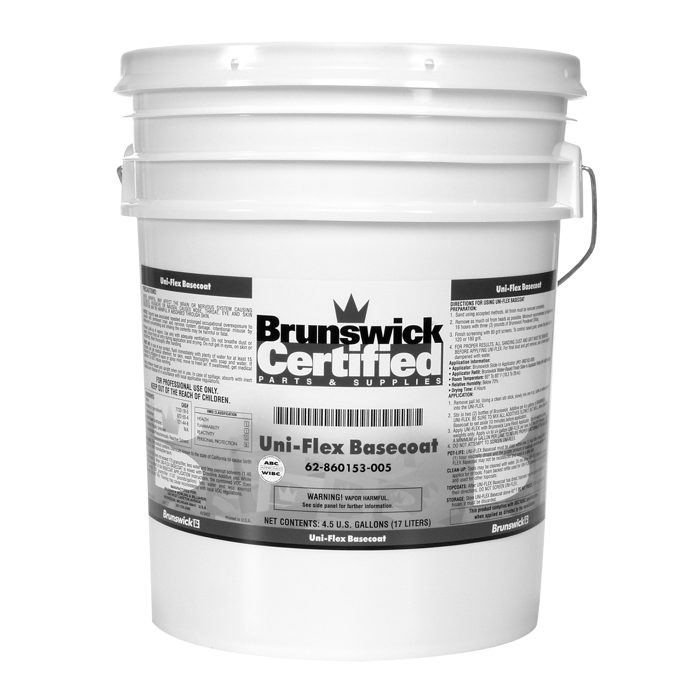 Produces unmatched adhesion with the safety and convenience of a water-based finish.
Features and Benefits
This durable water-based basecoat is easy to apply with the Slide-In Applicator (61-860183-000) and Water-Based Finish Slide-In Applicator Refills (61-860184-000) or with the Astro E-Z Plus Applicator (61-860241-000) and Foamback Applicator Refill (61-860243-000)
Dries quickly. Often in less than an hour
Offers a high degree of flexibility to expand and contract with the lane, greatly reducing cracking, chipping, bruising, and feathering
Recommended for new or uninjected lanes
Nonflammable and virtually odorless
Use in a three-coat system with two coats of Brunswick Hydrolane Topcoat
VOC compliant in all restricted areas
Includes additive and whitener
Each container coats up to seven lanes
Part Number
62-860153-005 - (5 Gallons)
Center Maintenance Catalog
Brunswick's comprehensive center maintenance products and supplies have been trusted by center owners for generations. Explore our maintenance supply catalog to find the next solution for your center's care needs.
Download Catalog
Brunswick Uni-Flex Basecoat Safety Data Sheet
Global Harmonized System of Classification (GHS) Safety Data Sheet. Information is made available in PDF format. Languages available for the European Union (EU) and North America (NA).
Download SDS Sheets